Standard & Customized Premium Quality Turnbuckles
Best Quality Turnbuckles in Accordance with all International Standards for All Industries
Turnbuckles comes with a long sleeve and internal screw threads that accept a variety of fittings used to pull or push anchor points closer together or away.
Types of Turnbuckles: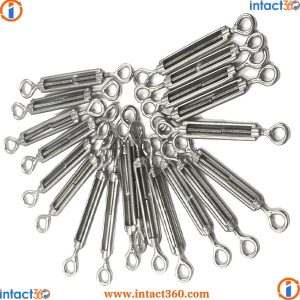 Turnbuckles are manufactured majorly in Galvanized Steel or Stainless Steel materials. These Turnbuckles are used for Rigging Supplies and Marine Hardware. At Intact360 we supply a full range of Turnbuckles Hardware including Jaw Jaw Type, Eye Eye Type, Hook Hook Type, Eye Jaw Type, and Hook Eye Type in various sizes ranging from M8 to M100 sizes as per customer requirements.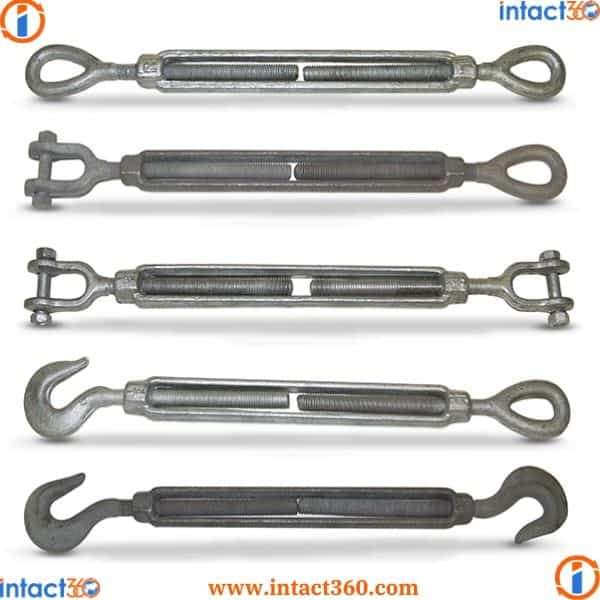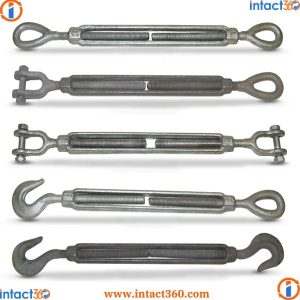 Intact360's Turnbuckles Collection
Turnbuckles with Hot Dip Galvanized or Stainless Steel grade 316 gives long life and resistive to corrosion. These Turnbuckles find major applications in Boat Rigging and Marine Rigging Industries as Hardware/Rigging Hardware.
Turnbuckles come with a variety of end fittings like Deck Toggle, Drop Pin, Eye, Fork or Jaw, Hook, Lag Screw, Threaded Rod, Stub End, Swage Stud etc.
Larger the thread diameter of the End fitting, the more capacity the turnbuckle will have and in the same way the longer the length of the turnbuckle body, the more slack it can take-up.