Best Quality Guard Rail Button Head Bolts in Accordance with all International Standards for All Industries
Button Head Bolts Intact360
Button head bolts and hex nuts are designed for use with guardrail posts and other applications where a small diameter bolt is required. Our guardrail button head bolts are designed to help state DOTs extend guardrails while saving money. The guardrail button head bolts are also made of hot-dip galvanized steel that is designed to not corrode.
Our heavy-duty guardrail button head bolts are used to secure guardrail posts to concrete or bedrock. They are designed for extra strength during impact conditions, have a heat-treated shank for greater fatigue resistance, and meet high standards. Each bolt is manufactured using proprietary processes to provide maximum toughness and durability.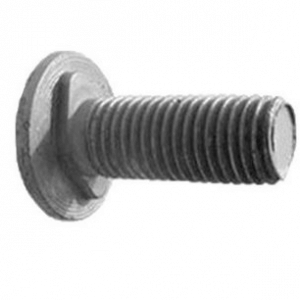 Intact360's Button Head Bolts
Intact360's Guard Rail Bolts
Common Pile Fasteners for highway crash barriers, guard rails, exit ramps, and embankments. The double hex flange head allows easy installation and removal with conventional tools. Available in Galvanized or Hot Dip Galvanized finish to help prevent rusting.
Crash Barrier Button Head Bolts Material Specifications:
Sizes Available: M10 to M20
Regular Common Diameter Size: M16
Grade: 4.6, 5.6, 5.8, 6.8 and 8.8
Finish: Self/Black Phosphate, Hot Dip Galvanized and zinc-plated surface
Standards: DIN, ISO, BS
Button Head Bolts Intact360
These bolts are designed for situations when the head of the bolt is the only part that needs to be captured. Since they're not embedded in concrete like a regular bolt, it's easier to replace and remove them when needed. These bolts and screws and nuts and bolts and washer and nut and washer that we sell can be installed in wood or metal, and come in a variety of sizes, styles, and materials.
Intact360 stocks Button Head Cap Screws for Road Crash Barriers. All of our Button Head Cap Screws for Road Crash Barrier are cut to length, HDG Hot dip galvanized and ready to ship. We offer quick shipment on all Button Head Cap Screws for Road Crash Barrier projects.